First of all, I want to know why they even bother to make boys' summer clothes in sizes 12-24 months. Doesn't it all end up like this? This was Raphael before even 8:00 this morning.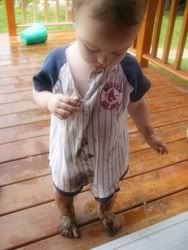 I happen to think that the outfit he's wearing here is infinitely more sensible. It covers the necessities, it's plenty smoochy, and it wipes clean (okay, soaks clean) at the end of the day with no laundry. What more could a mother want?
Add together two girls, an old kiddie pool, a dozen or so chickens, and some lavender bath soap, and what do you get? Hours of fun, that's what!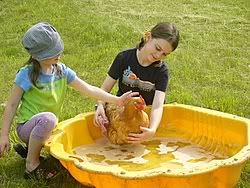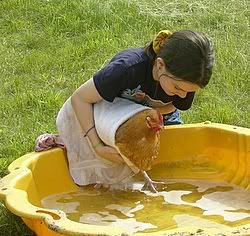 While the chickens were sweet-smelling, clean, and fresh, Eamon was busy getting dirty and sweaty. To a boy, suffocating humidity and temperatures in the nineties can mean only one thing: Basketball weather.
Kateri, however, is more like her Mama: When the chicken chores are done, enjoying the cool indoors with a good book and a good friend is much more pleasant way to wait out the heat.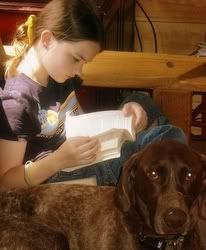 And I saved my favorite for last. Ambrose informed me that he knows it was breaking the rules, but because he needed the cash, he was forced to dig up his "time capsule" this afternoon, only six weeks after burying it. I have some vague memory of him putting this thing together, but I had no idea how involved the project was. I love this box of treasured items because it gives me a peek into my boy's soul: Favorite sports cards. A slinky. A canister of cookie-smelling play-doh. A coloring book. A plastic dinosaur. That all-important dollar. And a leftover piece of Easter candy.
The good news? Ambrose told me that he made short work of that buried-for-weeks Kit Kat and it was still good. "Can you believe that?" he wanted to know. Oh yes, I believe it, sweetie. Yum.