You can spend the entire winter poring through books, reading aloud, and filling out workbook pages but still not gain the education and satisfaction of a single spring afternoon spent at the lake.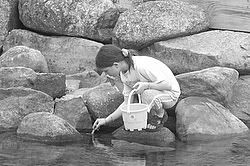 Sometimes the greatest lesson lies in discovering what is under the next rock, what it looks like, how it feels, and how quickly it will swim away. There is true contentment in filling your pail with treasures of your own choosing: smooth, speckled rocks, sandy bits of shells, live snails, and weathered glass. There is something real to be learned, too, in the quiet calm of an empty beach, the slippery cold feel of rocks beneath your bare feet, and the warmth of dry sand between your toes.
I challenge a book to capture the thrill of freedom a young girl feels as she runs along the shore of a lake, with a plastic pail swinging by her side. And I have yet to read a natural science lesson that can match the real-life observance of a squiggling collection of polliwogs.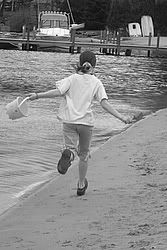 There is quiet contemplation in the fresh smell and gentle sound of lapping lake water as you gaze at your own wiggling toes beneath its ripples.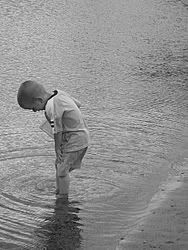 There is real work and real achievement in packing buckets full of wet, heavy sand, dumping them upside down, and tapping them—just so—in order to construct sturdy castle walls.
There is the warmth of springtime sun that kisses your nose, your neck, and your shoulders as you laugh and play, swing and slide. There is something real, something promising, and something eternally hopeful in a clear, bright, April sky. And there is something wonderfully exhilarating in swallowing great gulps of full fresh air as you swing from the sky and laugh with abandon.