When the kids put on bathing suits and turned on the hose this afternoon, my first inclination was to bring Raphael inside. To protect him. If you recall, this is the baby who was terrified of the grass earlier this spring. He is frightened by the sound of the computer printer. He cries when he sees his father working with a nail gun. I was pretty sure that frigid water from the hose would not be his idea of a good time. But as it turned out, and as you can see, I was being silly.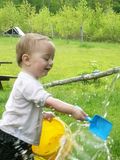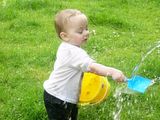 click on pictures for a closer look
After an hour or so of cold outdoor showering and drinking from a plastic pail, he wandered away for a roll in the mulch. The consequences of this poor decision can be seen
here
(cropped only because the older boys would howl in protest if I did not preserve their little brother's decency).
It may be time for me to stop babying my baby, but that doesn't mean I can't still take pictures of his bum.