Maybe it's the impending end of the school year and our eagerness for the start of summer, but lately this household has not been as peaceful and cheerful as it should be. In my opinion, on most recent days, there has been way too much sighing, griping, complaining, and arguing. And that's just my contribution.
In my defense, I must point out that it has been raining for the past three days straight. And I happen to belong to a school of thought that is very lenient and forgiving toward moody pregnant women. I've got the excuses pretty well covered, I think.
But whatever the reasons for it, I woke up this morning feeling already sick and tired of the day. As I started the regular routines of breakfast and readying for schoolwork, I found myself thinking, "I don't think I can make myself do this today."
So I didn't. We hurried through our basic schoolwork this morning, but this afternoon, as the sun came out and the temperatures neared eighty, I shooed the kids outdoors and watched from a peaceable distance.
The first game on the schedule was, of course, Chicken Salad which today was made all the more delectable with leftover linguini, olive oil, and parmesan cheese from lunch.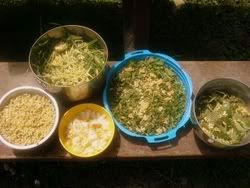 After the chickens had been properly pampered, the next thing that needed the children's attention was some serious wildflower harvesting and arranging. I had to be careful not to hurt anyone's feelings, but the golden rod and other suspect flora had to remain outdoors in plastic cups. Allergies do have the potential to turn an unsuspecting person into an impervious-to-Benadryl modern day Elephant Woman overnight. Trust me. I know these things.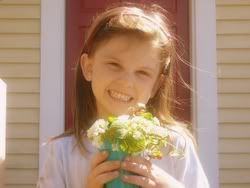 It wasn't long after the wildflower extravaganza that I glanced outside and found that someone, or more accurately many someones were apparently feeling the rising temperatures.
Most of the discarded articles of clothing seemed to belong to Gabrielle, so my next task was to find her naked body. And find her, I did, relaxing and enjoying a dip in a wading pool of her own making.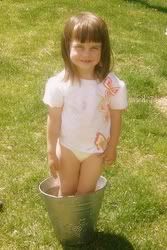 Perhaps she got the idea from her older and only slightly more sophisticated sister?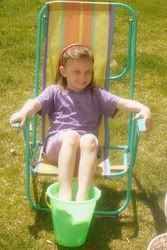 After the cooling baths, there was playing fetch with the dog until I thought he might pass out with panting.
And then there was still plenty of time left for pulling Raphael in the wagon until he grew tired of it. But when it began to look like that might never happen, we settled for pulling Raphael in the wagon until everyone else grew tired of it.

After wagon rides came dinner at McDonald's, a rare and welcome treat. No, I did not have a chocolate milkshake. As we were pulling out of the parking lot, though, Juliette said, "Sometimes when we drive by McDonald's I see cars coming out of here and I think 'Wow, they're lucky,' but tonight, we're the lucky ones."
Yes we are, Sweetie.